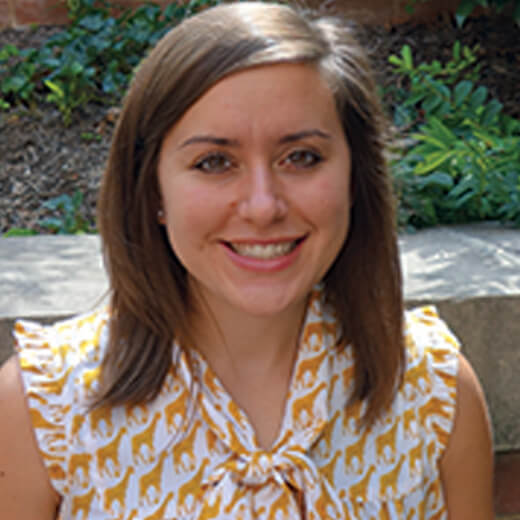 Heather Folz, PharmD, BCACP
"Everyone on the team is quick to reach out to help provide our patients with the resources they need to reach their goals. While many places emphasize the importance of "patient-centered care," this team really practices what they preach. The support I receive from everyone, from the physicians to the medical office assistances, makes me feel valued and supported so I can provide the best care for my patients."
Bio
I am a passionate educator who enjoys teaching patients, medical residents, pharmacy residents, and students. Areas of interest include interprofessional education, diabetes management, motivational interviewing and behavior change. I am the pharmacist coordinator in the Daniels Interprofessional Care course with both Hopkins Nursing and Medicine faculty. In 2019, I was awarded faculty mentor of the year in at Notre Dame of Maryland University where I have been serving as assistant professor since 2016. I have also been a recognized for my contributions to patient care by the Johns Hopkins Hospital Pharmacists Clinical Practice Council Clinical Intervention Program.
My personal interests include visiting Cylburn Arboretum and anything plant related, leading a small group at my church, and trying new recipes. I am from North Carolina and visit my family there often but have enjoyed developing a "Bmore family" with my friends here in Baltimore.
Education
Degrees

Doctor of Pharmacy / Campbell University College of Pharmacy & Health Sciences 2014

Residencies

PGY 2 – Ambulatory Care Pharmacy Residency / Butler University College of Pharmacy & Health Sciences 2016

PGY 1 – Community Pharmacy Practice Residency / Kroger Pharmacy and Union University School of Pharmacy 2015

Board Certifications

Board Certified Ambulatory Care Pharmacist Specialist , 2017
Scholarly Interests
The scholarship of teaching and learning, Student and faculty wellness
Selected Publications
Folz HN, Sprunger TL, Sheehan AH, Aranda J, Bozymski KM, Ramsey DC, Gonzalvo JD. Factors associated with mentor satisfaction among teaching and learning curriculum program participants. Curr Pharm Teach Learn. 2018;10(4):427-432.

View publication

Folz HN, Murphy BL. Implementation of an outpatient, pharmacist-directed chronic obstructive pulmonary disease clinic. Excerpts in Pharmacy Research Journal. Vol. 2 (2016).

View publication